Sacred Text | Previous | Next

---
Arabic Chinese Calligraphy, Haji Noor Deen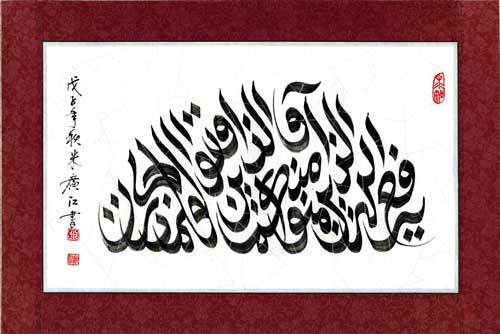 "Allah will Raise up, to (suitable) ranks (And degrees), those of you who believe and those who have Been granted Knowledge." (58:11)
Haji Noor Deen Mi Guang Jiang
Circa 2011
China ink and brush on rice paper and silk fabric [16]
27 x 38 cm (10.6 x 15 in)
Center for Islamic Studies Collection

Haji Noor Deen Mi Guang Jiang, was born in 1963 in Yucheng, Shandong Province, China. He studied calligraphy in his youth and then studied under a master teacher in Egypt for eight years. Now a master calligrapher using the sini script, he has brought back to life the art of Chinese Muslim calligraphy. His work is found in major museums across the world.
Haji Noor Deen lectures on Arabic calligraphy at the Islamic College in Zhen Zhou, China and the Zaytuna Institute in Berkeley. He also has given workshops at many insititutions including Harvard, Cambridge, and Stanford. For more information, see his website and the book, Arabic Calligraphy in the Chinese Tradition: The Art of Haji Noor Deen Mi Guangjiang (2010).
The library houses the Islamic Center's collection, which consists of 20 of his works in varying sizes. Five are on display for this exhibition.