---
A Leaf from the Gutenberg Bible of 42 Lines
The Latin Vulgate Bible
Judges 5:4-6:26
Mainz: Press of Johann Gutenberg, 1454.
1 leaf ; 40 cm
Given to San Francisco Theological Seminary Library by the Class of 1921, in 1953.
---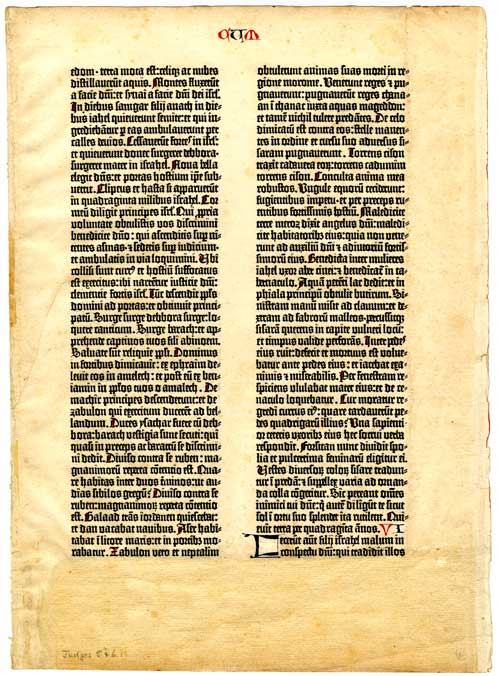 Leaf, Judges 5:4 -6:10, Gutenberg Bible. 1454. Dark area at bottom is where a conservator added paper to restore the sheet to its orginal size. Also, note initial at the chapter beginning. Spaces were left open so that initials could be added by hand. See facsimile below.
---
Facsimile, a leaf from the Gutenberg Bible of 42 Lines.
1 leaf ; 40 cm
A facsimile of the beginning of the Gospel of St. John from the 42 line Bible printed in Mainz 1452-1455. Made for the Gutenberg Museum to commemorate the 500th anniversary of the original printing of the Bible.
San Francisco Theological Seminary Collection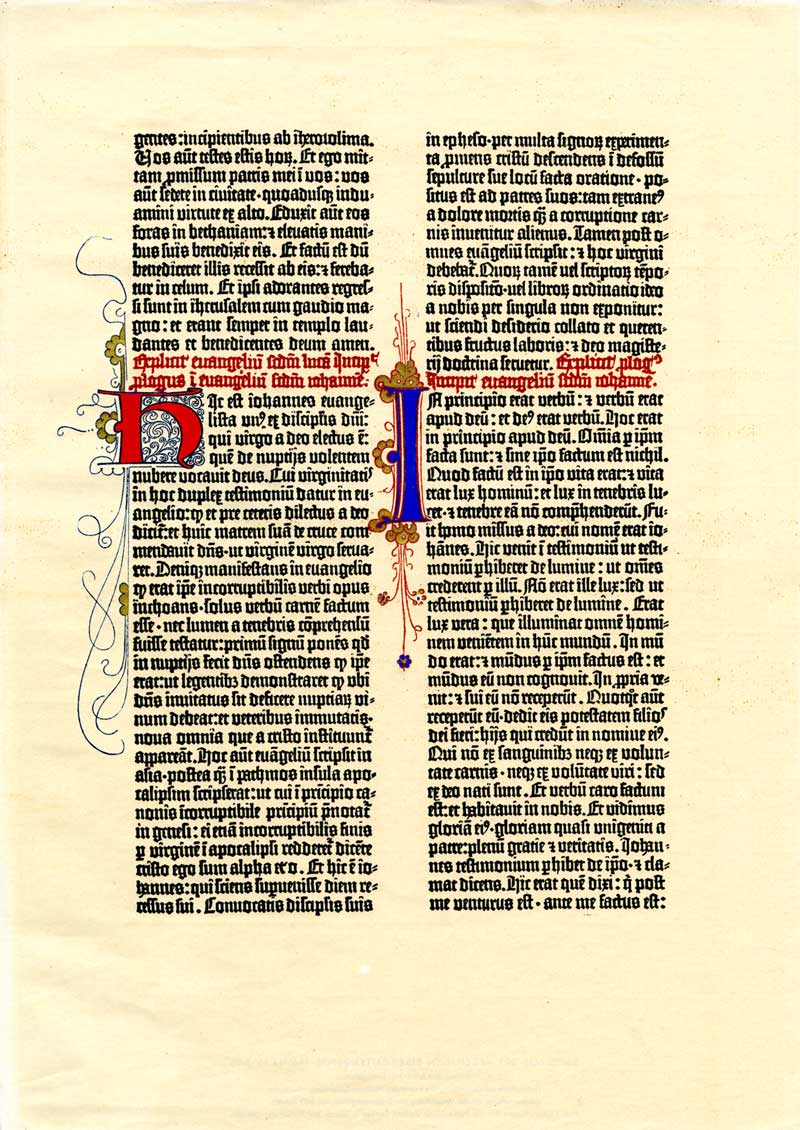 Leaf, Gospel of St. John, Gutenberg Bible. Facsimile 1452-55. Note initials.
---
Desiderius Erasmus Roterodamus (October 28,1466 - July 12, 1536), Novum Testamentum Graece Et Latine Ex Versione Et Cum Adnotationibus, Singulis Paginis Subjectis, Ed. nova, accur. et emend.
Lugduni Batavorum: Petri Vander, 1705.
1126 numb. col., [17] p. ; 41 cm
This printing of the Textus Receptus represents Erasmus' unparalleled contribution to the humanist movement and to the study and translation of the scriptures. Originally published in three editions in 1516, 1519, and 1522 this Greek text provided source materials for Luther, Tyndale, and subsequent scholars.
Graduate Theological Union Library Collection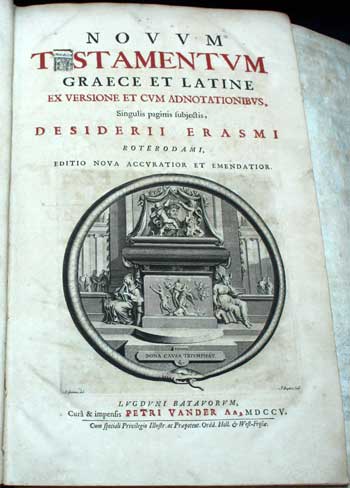 Title page of Erasmus' Novum Testamentum Graece Et Latine, 1705 edition.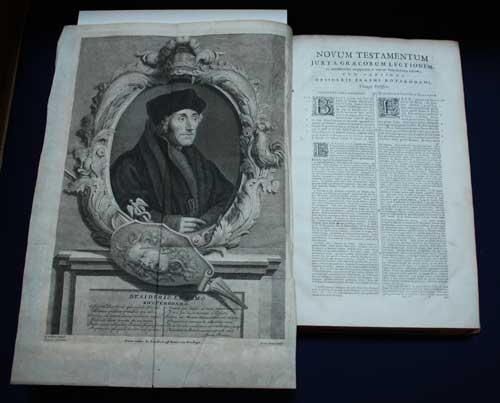 Engraving of Erasmus and beginning of the New Testament.
---
Biblia Complutensis
Facsimile ed. Pontificia Università Gregoriana, Rome: Gregorian University Polyglott Press, 1983.
6 v. ; 39 cm
Originally published between 1514 and 1517 by the press of Arnaldo Guillermon de Brocardo under the direction Cardinal Francisco Ximenes de Cisneros and Diego López de Ziniga.
An early example of Polyglot translations, especially Greek and Aramaic texts.
Graduate Theological Union Library Collection
---
Biblia Complutensis, facsimile of 1514, 1517 edition.
---
Biblia, Das Ist, Die Gantze Heilige Schrifft Deudsch D. Mart. Luther ...
Gedruckt zu Wittenberg: Augusto Boreck, 1626.
[36], 332, 372 leaves : ill., port. ; 40 cm
The Luther Bible, first published in complete form in 1534, provided both spiritual and intellectual momentum toward the translation of the Scriptures into other vernaculars, notably English. Most editions, like this one, are profusely illustrated with engaging woodcuts.
Luther made use of Erasmus' second edition (1519) of the Greek New Testament rather than the Vulgate as the source for his translation. A later edition of that work is included in this exhibit. Shown are the Garden of Eden and the Creation of Eve from the Genesis account. Note the antediluvian unicorn in the mid left of the image.
Graduate Theological Union Library Collection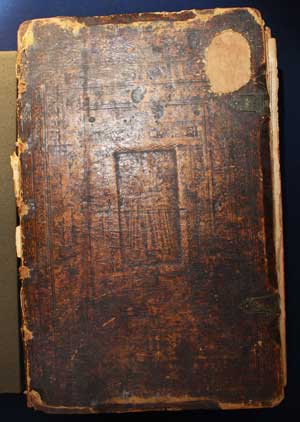 Stamped cover with Martin Luther, Luther Bible, 1626.
---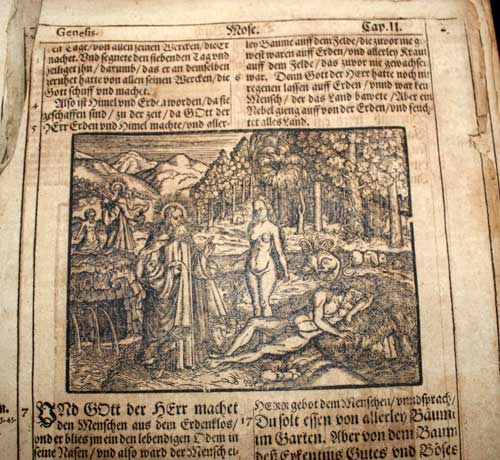 Woodcut, Adam and Eve, Luther Bible, 1626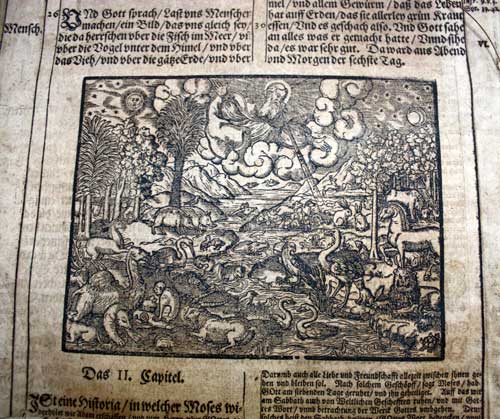 Woodcut, Creation of living creatures, Luther Bible, 1626
---
Mikdash Yeyai [i.e. Adonai], 'esrim Ve-'arb'a Sefare Ha-Mikhtav Ha-Kadosh 'A = En Tibi Lector Hebraica Biblia: Latina Planeque Noua Sebast. Munsteri Tralatione, Post Omneis Omnium Hactenus Vbiuis Gentium Aeditiones Euulgata,& Quoad Fieri Potuit, Hebraicae Veritati Conformata: Adiectis Insuper È Rabinorum Co[m]mentarijs Annotationibushaud Poenitendis, Pulchre & Voces Ambiguas & Obscuriora Quaeq[ue] Elucidantibus
Basileae: Ex officina Bebeliana, impendiis Michaelis Isingrinii et Henrici Petri, 1534.
2 v. in 1; 32 cm. (fol.)
An important contribution to the scholarly world of the 16th century, Sebastian Munster's new Latin translation of the Hebrew Scriptures printed in adjacent columns with Hebrew originals represents the early flowering of collaborative efforts undertaken by Jewish Scholars and Christian Hebraists. Tyndale and other early translators made use of this work as a source for the Hebrew text.
Sebastian Münster (1489-1552) was a German geographer, mathematician, and Hebraist. He is most widely known for his 142 cartographic works, most notably his Cosmographia Universalis, the first detailed, scientific, and popular description of the known world in German published in 1544.
Münster studied in Tübingen and became a Franciscan. He joined the Reformation after 1529 and gained appointment as court preacher in Heidelberg. He taught Hebrew and the exegesis of the Hebrew Scriptures in Basel from 1536. Münster published a number of Hebrew grammars, a Grammatica Chaldaica (Basel, 1527), a Dictionarium Chaldaicunt (1527), and a Dictionarium Trilingue: Latin, Greek, and Hebrew (1530).
This edition of the Hebrew Bible, issued in Basel in 1534-1535, is the first to be published in Germany; it contains a new Latin translation and many textual notes. Originally the complete Tanakh was published in two volumes; this copy includes only volume one (Torah, Joshua, Judges, and the books of Samuel and Kings), which has been bound with a copy of Munster's 1537 edition of the Gospel of Matthew in Hebrew and Latin.
Graduate Theological Union Library Collection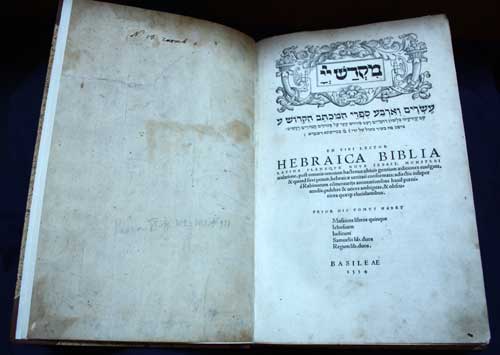 Title page of Hebraica Biblia, 1534.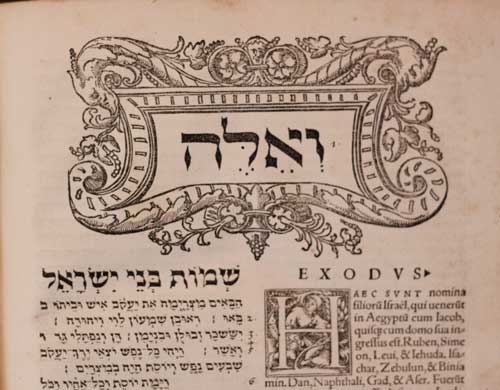 Exodus, Hebrew and Latin text, Hebraica Biblia, 1534.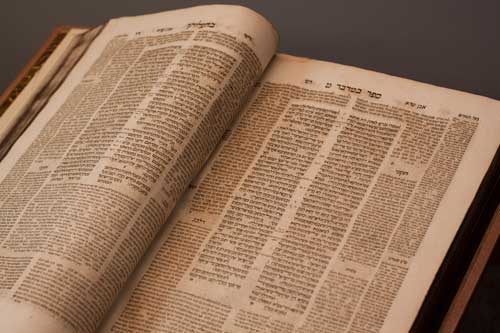 Hebraica Biblia, 1534.