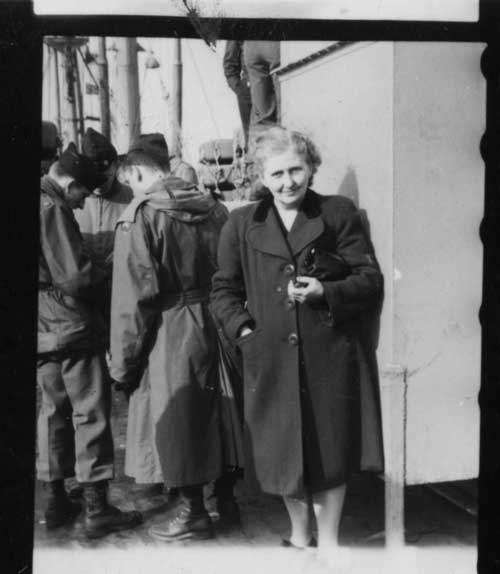 Elsie Thomas Culver, a publicist for church relief services in New York City, packed her camera, hopped on a troop ship to England and then traveled through Europe on a fact finding mission in late 1945.
She writes:
Through England, Holland, France, Germany, Switzerland, and Czechoslovakia, from September to December, she visited hospitals, schools, relief centers, and wherever reconstruction work was going on, taking hundreds of photographs. The pictures, along with experiences recorded in her journals and letters, capture her unique perspective as an American woman civilian on post World War II Europe.
She remembers:
Culver (1898-1988) was a graduate of the Pacific School of Religion and an ordained Congregational minister (1943), one of the few women ministers at the time. She worked as a publicist for the Church Committee on Overseas Relief and Reconstruction during World War II. She was in charge of creating material for fund raising campaigns. This organization later became Church World Service under the National Council of Churches.
This online exhibit features her photographs (there are many more) along with excerpts from her journals and letters and several of her brochures. For additional information on the collection, which consists mostly of photographs taken on her major trips to Europe after World War II and her trip around much of the world in 1948-49, see the finding aid or visit the GTU Archives.