Home, December 1945
From Mimeograph, p. 1
My last Sunday in Europe I dissipated to the extent of a trip to the Lovre with Larry Arthur of ACCR and a friend of hers from the Unitarian Committee, and afterward we had tea at Rumpelmeyers, which for an ice and a little cake and a cup of tea set me back 400 francs ($8.00).
So off to Le Havre.
There were twenty of us civilians (all women) on the boat. There were also 7000 troops, officers and enlisted men and a lot of nurses, Red Cross Workers, USO troops, etc....
The ship newspaper came out with what was presumably supposed to be a reaassuring [the weather had been stormy] account of "Old Alex's" 45 years of service. People began asking what the average lifetime of a ship was and divided into two schools of thought,those who decided that by the law of averages we were done for and those who said in that length of time she must have seen worse storms than this and come through them. Everybody gave up hope of getting home for Christmas and hidden stores of liquor appeared and disappeared.
Home, December 30, 1945
From Mimeograph, p. 2
New York again. Tinsel-trimmed windows. Bright lighted streets. Throngs milling around Times Square. A sell-out at every show and record reservations for New Year's eve at the night spots. No more rationing. Shops full of luxury leather goods. Gem-studded spectacle frames. Fur coats for poodles.
Is this America's heritage from the war? Then perhaps, after all, we are the ones to be pitied. But no, we are to be envied. Envied the opportunity that is ours to demonstrate the Christian love and brotherhood to a bewildered and needy world. It is surely just that the people here have not yet heard their brothers' cries of despair. May God grant to his Church the voice to make the needs of their fellowmen real to the people of America, and turn our hearts to serve Him, through them.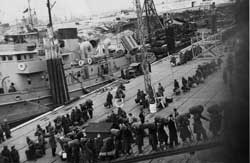 Loading SS Alexander at Le Havre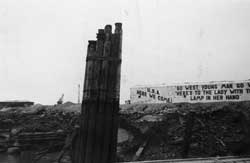 Sign "USA here we come"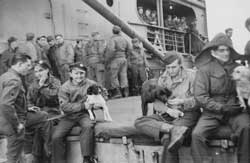 Returning soldiers with dogs. Dog at center has own parachute, two battle stars and a wound stripe.
Returning soldiers at rail.