Bede Griffiths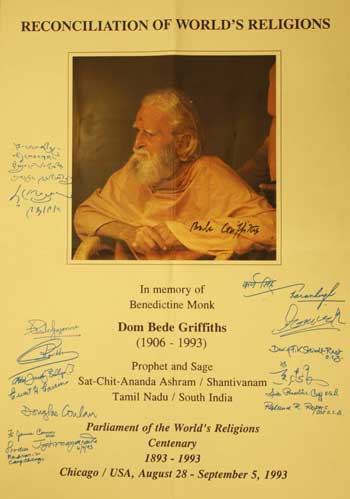 Reconcilation of World's Religions
In Memory of Benedictine Monk Bede Griffiths (1906-1993)
Parliament of World's Religions Centenary
Chicago
August 28 - September 5, 1993
14 x 23 inches
Bede Griffiths Collection, GTU 95-8-01
The archives at the Graduate Theological Union contains an extensive collection on this pivotal figure in the 20th century, provided by the Bede Griffiths Trust.
Signatures from top left to right bottom:

1. Personal dedication of: His Holiness The XIV. Dalai Lamaexiled spiritual leader and head of state of Tibet. Nobel Prize Winner.
2. His Eminence Metropolitan Paulos Mar Gregorios - Metropolitan of Delhi and the North Syrian Orthodox Church of India; past president of World Council of Churches.
3. Professor Raimon Panikkar, distinguished theologian, scholar and world thinker; leading figure: interreligious and cross-cultural dialogues, author of over 40 books and hundreds of articles.
4. Timothy Kelly O.S.B., abbot of St. John's Collegeville, Minnesota, the largest single Benedictine monastery in the world with 250 monks.
5. Professor Ewart Cousins, professor of theology, Fordham University, New York; general editor of the 25-volume series World Spirituality; former consultant to the Vatican Secretariat on Inter-Religious dialogue.
6. Douglas Conlan Obl. O.S.B. secular priest in Perth/West Australia, Benedictine oblate of Shantivanam, in the lineage of Father Bede Griffiths; representing the Bede Griffiths Trust in Australia at Christ by the River Hermitage, teacher of contemplation, lecturer.
7. James Conner O.C.S.O. Trappist monk, Abbey of Gethsemani!K.entucky - where Thomas Merton was also a monk - member of Monastic Interreligious Dialogue (MID) and editor of its publication "Bulletin".
8. Hindu Swami Jyotirmayananda, an outstanding expert of the teachings of Sri Ramakrishna and Vivekananda and author of the most comprehensive study on Vivekananda, which carries the message of hope for an inner transformation and to pave the way for universal peace and prosperity.
9. Dr. Karan Singh, President: Temple of Understanding, India Chapter; former Indian ambassador to the United States; leader of Indian reform movement dedicated to the crusade against untouchability; active in environmental and global consciousness movements and in interfaith dialogue.
10. Samdhong Rinpoche, Director Institute of Higher Tibetan Buddhist studies, VaranasilIndia; scholar and spiritual master.
11. David Steindl-Rast O.S.B. Benedictine monk associated with the Camaldolese Benedictine Community at Big Sur/California; advisor to:MID, author, lecturer and leader in interfaith dialogue.
12. Al Huang, Tai-Chi master, internationally recognised lecturer, author of Thinking Body, Dancing Mind.
13. Sister Pascaline Coff O.S.B.-Ph.D. Benedictine nun, founder and director of Osage Monastery, Forest of Peace, a monastic Ashram in Sand Springs, Oklahoma. Since 1976, she has been involved in East-West interreligious and intermonastic dialogues, teacher of contemplation, lecturer.
14. Roland R. Ropers Obl. O.S.B. managing director of a private hospital in the Upper Bavarian mountains/Germany. Benedictine Oblate of Saccidananda Ashram, Shantivanam; disciple of Jesuit priest and Zen-Master H.M. Enomiya- Lassalle (1898-1990) and Bede Griffiths.