Thomas Starr King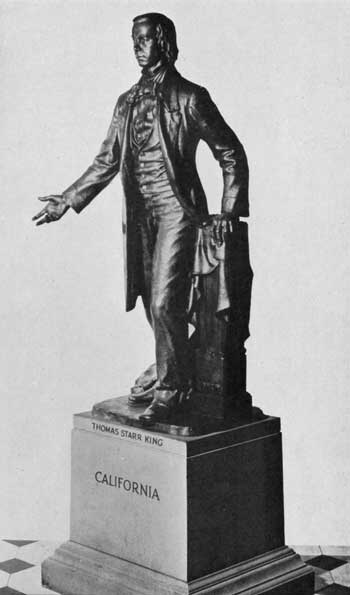 Thomas Starr King Statue, Statuary Hall
Haig Patigian
1931
Acceptance and unveiling of the statues of Junipero Serra and Thomas Starr King / presented by the state of California ; proceedings in the Congress and in Statuary hall, United States Capitol
, United States Government Printing Office, 1932
Two statues of Thomas Starr King, a Unitarian minister, credited with saving California for the Union during the Civil War, are prominently displayed in the state.
This statue by Haig Patigian was cast and placed in the National Statuary Hall Collection in the US Capitol Building. King and Junípero Serra, founder of the missions, were installed as the two representatives in the collection from California in 1931. The King statue was replaced in 2009 by a statue of Ronald W. Reagan and returned to Sacramento, accompanied by the exhibition "The Apostle of Liberty: Thomas Starr King". The statue now greets visitors entering the Civil War Grove in Capitol Park.
The first statue was erected in Golden Gate Park in 1891. This statue was created by French sculptor Daniel Chester, who also created the Lincoln sculpture at the Lincoln Memorial. It stands at the intersection of John F. Kennedy Drive and Hagiware Tea Garden Drive. The plate says:
THOMAS STARR KING
IN HIM ELOQUENCE, STRENGTH, AND VIRTURE WERE DEVOTED
WITH FEARLESS COURAGE TO TRUTH, COUNTRY AND HIS FELLOW MEN.
1824-1864

King is a wonderful writer and preacher, still very readable today. Here is an excerpt from a Sermon at Hollis Church, Boston, 1856:
I hear frequently the charge that I preach politics, and that it will make trouble if I do not desist. This undoubtedly refers to the frequency of the treatment I have given, during the last year or so, to the Christian spirit and obligation of humanity, and the application I have often made of it to our responsibility as members of the American government, as entrusted in part with the destiny of an Empire. Wherever there is power there is trust and duty. The preacher's business is with spiritual laws, and their bearing upon or their application with the duties and the action of common life. If I think and see clearly how a great spiritual principle may be honored by the method in which you can trade, or use your money or exercise your genius, or live at home, am I not bound to interpret that way, leaving it for your conscience and your insight to accept or refuse my interpretation?
Other resources: Glenna Matthews,
The Golden State in the Civil War: Thomas Starr King, the Republican Party, and the Birth of Modern California
(2012; some digital content is
online
.