Christ Pantocrator, Three Icons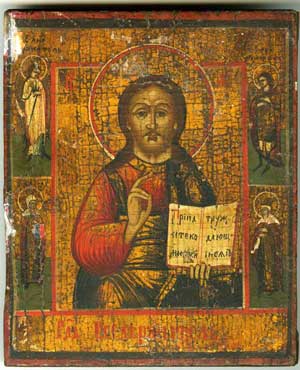 Christ Pantocrator Flanked by Saints
Russian
18th or 19th century
5 1/2 x 6 7/8 inches
Courtesy of Patriarch Athenagoras Orthodox Institute (PAOI)
The half-length image of Christ is entitled in Russian "Our Lord the Ruler of All." This type of iconography developed in Byzantium in the seventh century and since then was used to visualize the royal qualities of Christ in various media-from coins and portable icons, like this one, to church frescoes and mosaics.
Christ is represented here on a golden backdrop blessing with one hand and supporting an inscribed book with the other. The inscription is in Russian and relates a personal invitation to the viewer from Matthew 11:28 to "come to me, all you that labor." The figure's halo bursts beyond the red frame where four exquisite figures are painted. On the top are visible two angels who turn in direction of Jesus' figure: an unidentified guardian angel to the left and archangel Michael to the left.
The figures below are aristocratic women. The one on the left wears a golden and red dress with a white maphorion as is fitting for well-to-do ladies. With her left hand she supports a cross revealing that she is a martyr. A partially preserved inscription indicates that this is an image of St Vassa or Bassa, who died in Macedonian Edessa in the beginning of the fourth century. The lady on the right is similarly sumptuously dressed but she has a crown. The inscription that hovers above her head identifies her as the tenth-century princes St Olga, the first Russian ruler to convert to Christianity.
The peculiar choice of saints and the relatively small size of this panel indicate that it would have been used in private, perhaps even domestic, setting stimulating the prayers of a single individual, very likely a noble woman. [35]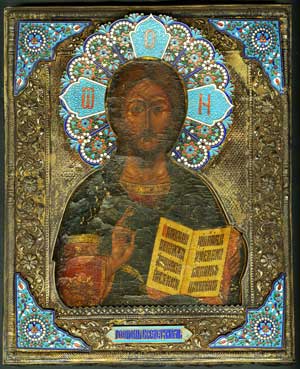 Christ Pantocrator
Russian
Second half of 19th century
8 7/8 x 10 1/2 inches
Courtesy of Patriarch Athenagoras Orthodox Institute (PAOI)
This icon combines the medium of painting with that of relief metalwork. However, the painted surface and the metal revetment relate in a way different from the one seen on the icon of St Nicholas. The figure here is entirely visible, with the metal riza (revetment) becoming more of a frame rather than a cover. This is a representation of Christ identified in Russian as "Our Lord the Ruler of All."
Christ's face, with features carefully articulated with quick white strokes, is framed by a precious halo, filled with the intricate and multicolored blooms of glass enameling. Jesus is represented blessing with his right hand and holding an opened book with his left. It is inscribed with a beautiful but difficult to read calligraphic script with the words from the Gospel of Matthew 11:28-29: "Come to Me all you that labor and are heavy laden and I will give you rest; take My yoke upon you and learn from Me."
Christ wears the recognizable dark blue and red garment decorated with golden embroidery and bejeweled neckline suitable only for kings and nobility. The icon's silver revetment adds to its preciousness. It is carved with flowers and vines, and is additionally decorated with enamel plaques at the four corners, invoking common designations of Christ as a vine, as well as indirectly commenting on His life-giving and life-sustaining powers. [2]
Christ Pantocrator
Russian
Second half of 19th century
10 1/4 x 12 1/4 inches
Courtesy of Patriarch Athenagoras Orthodox Institute (PAOI)
Christ is represented bust length in a manner suitable for the Pantocrator or All Ruler. He is painted in a style different from that traditionally associated with Orthodox art. It developed in the late seventeenth century as a result of interactions between Russian artists and Western European modes of representation. Christ's body is almost entirely concealed by the silver revetment and only his face and hands are visible. His clothing as well as the book that he supports are articulated in metal and seem to have been covered with a material that resembles gold. A raised halo, all made in colorful cloisonné enamel, blooms around his head with exuberant vegetal motifs. Triangular enamel plaques bearing similar decoration adorn the four corners of the panel.
The tone of the inscription closely corresponds to the royal iconography of the Pantocrator. It relates the thirty fourth verse of the thirteenth chapter of John's Gospel in which Jesus orders his followers: "A new command I give you. Love one another. As I have loved you so you must love one." [19]
Explanations provided by Rossitza Schroeder, Associate Professor of Art and Religion, Pacific School of Religion, and currently a Fellow at Dumbarton Oaks.