St. Nicholas, Two Icons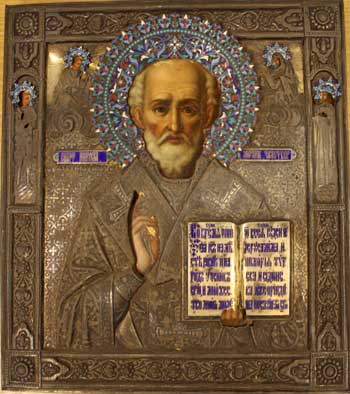 St Nicholas
Russian
19th century
12 x 13 1/2 inches
Courtesy of Patriarch Athenagoras Orthodox Institute (PAOI)
The sainted archbishop is identified with blue enameled letters as St Nicholas the Miracle Worker of Myra. He is represented half length and in a style which departs from that known in Byzantium, where his iconography was first worked out. He has a life-like mildly worried face with receding hairline and a short white beard and moustache. His right hand, revealed from underneath the metal cover is raised in blessing and in his left he holds an opened and inscribed book with a citation from the Gospel of Luke 6:17. This is an inscription which frequently accompany the icons of the saint and must have been chosen for its didactic meaning-just like Christ in this passage, Nicholas was a teacher and religious leader of various peoples. The saint is dressed in his typical episcopal regalia, and his head is framed by a beautiful halo "blooming" with multicolored flowers.
Virgin Mary and Christ are represented on both sides of Nicholas floating on cloud-like formations. Christ gestures in direction of the saint and holds a book offering it to him to indicate his role as a teacher. Mary is similarly engaged with the saint presenting him with the symbol of the highest priestly rank, the band embellished with crosses that he would wear around his neck and which is known also as omophorion.
A lush garden of flowers and fruitful vines frame the image of the saint with four exquisite enamel additions at the corners. Two additional figures-one male on the left and one female on the right are represented in the icon's frame. They occupy the space traditionally assigned for donors, but in this case we see two sainted figures. An archangel, perhaps Michael, is represented on the left, and a queen is on the right. The heads of the two are framed with miniature versions of Nicholas' lavish enamel halo. [12]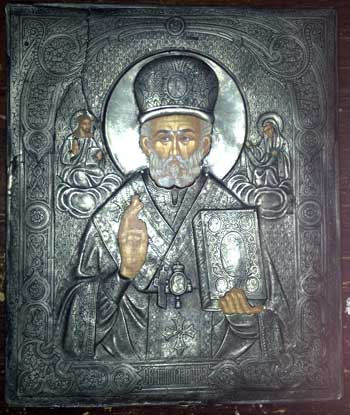 St Nicholas
Russian
late 19th century
7 x 9 1/2 inches
Courtesy of Patriarch Athenagoras Orthodox Institute (PAOI)
(Not currently on display)
St Nicholas is one of the most widely venerated Christian saints. The Orthodox church celebrates his feast on December 6th. This icon reveals a typical representation of the saint as a bishop which was first formulated in Byzantium in the late eleventh century. St Nicholas wears an omophorion and a lavish sakkos, and on his head is visible episcopal crown. He blesses with his right hand while supporting in his left a gospel book as a symbol of his authority. The book displays a cover on which a western representation of the Resurrection is incised together with the images of the four evangelists in the corners. An encolpion with an image of the Virgin, as well as a cross familiar to most Russians from actual metal pieces dangle before his chest. On both sides Christ and Virgin Mary emerge from clouds presenting the saints with the symbols of his episcopal authority-a book and an omophorion. On the bottom an inscription in Russian identifies him as St Nicholas the Miracle Worker. The icon bears a silver revetment which served both as protective cover as well as a symbolic gift to the saint.
Explanations provided by Rossitza Schroeder, Associate Professor of Art and Religion, Pacific School of Religion, and currently a Fellow at Dumbarton Oaks.