Introduction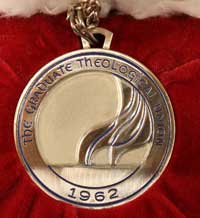 Presidential Medal with GTU seal, based on a book stamp designed by John Dillenberger.


Current version of book stamp designed by John Dillenberger.
Imaging Religion: An Exhibition in Honor of the 50th Anniversary of the Graduate Theological Union is currently on display at the GTU library until the end of February 2013.
This online site features a few of the works that are on display and includes other works that are not. Also included are remarks given at the blessing of the library and its collection that was held on October 8 and a brief history and timeline of the GTU, taken from the posters on the walls.
The idea behind the exhibition is to present visual and textual expressions that characterize different religious traditions. Some of the works are used for either private or public devotion; others simply express religious beliefs in an artistic format.
Reflecting the variety of traditions at the GTU, the exhibition includes Orthodox icons; Catholic paintings, prints, and vestments; Protestant prints; Islamic and Buddhist calligraphy; Jewish scrolls; and other printed material, statues and objects.
Of special note for the physical exhibit are works by contemporary artists Haji Noor Deen Mi Guang Jiang, Ron Nakasone, He Qi, Alfonso Castillo, Corita Kent, Angelica Vasquez Cruz, and Virginia and Louis Naranjo. Their work stands side by side with examples from earlier times: printed manuscripts from the 16th century, a leaf from a beautiful Book of Hours, a few clay fragments from the late Iron age, a page from the Kalpasutra, and several impressive statues collected by missionaries.
Contributers to the exhibit include His Eminence Metropolitan Nikitas, Rossitza Schroeder, Munir Jiwa, Fr. Michael Morris, Ronald Y. Nakasone, Aaron Brody, Kiersten Neumann, Michael Peterson, Lucinda Glenn, and Judith Davis. Framing of the icons and Islamic calligraphy and conservation was provided by Bonnie Jo Cullison and Karen Sosa. The walls were set up by Nicholas Ukrainiec. Contributing to the history of the GTU Posters were Lucinda Glenn and suggestions from Kay and Richard Schellhase and Caryl Woulfe (see Timeline). The exhibit was curated by David Stiver, who also created this online exhibit, with significant contributions from Clay-Edward Dixon.
The exhibition is sponsored by the GTU Library and is supported in part by a grant from the American Theological Library Association and the Office of Institutional Advancement. October is Theological Libraries Month and American Archives Month.