GTU Timeline: Evolution of Holy Hill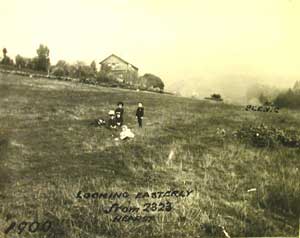 View of the Wilson house in 1900. See more photos here.
In the late 19th century, the area that became Holy Hill was called Daley's Scenic Park and promoted as "Beautiful Berkeley." A banker, Frank M. Wilson, built and moved into a carriage house in 1894 at 2400 Ridge Road, the present site of the library. Nearby, Phoebe Hearst built two back-to-back houses (2368 Le Conte and 1816 Scenic) in 1902, next to the residence of University of California President Benjamin Ide Wheeler (1820 Scenic), which was completed in 1900.
On September 17,1923, most of the buildings north of Ridge Road (over 550 structures) burned in a great conflagration. In rebuilding the area, which included the fraternities and sororities who lost their houses, Bay area seminaries began to purchase land and move into the area in order to be closer to the University and to each other. In the 1960s, except for a few cooperatives, University student chapters moved to the south side of the campus.
Flora Lamsom Hewlett Library at 2400 Ridge Road after completion in 1987.
Pacific School of Religion purchased their land from the Phoebe Hearst estate and moved to its current location ("the most magnificent site in the East Bay region") in 1925. Church Divinity School of the Pacific moved from Grace Cathedral in San Francisco to their present location in 1930. Starr King School for the Ministry moved next to the University Christian Church (completed in 1929) in 1942. Pacific Lutheran Theological Seminary relocated from Seattle to further up the hill at 2770 Marin Avenue in 1952.
Both Berkeley Divinity School (now American Baptist School of the West) and San Francisco Theological Seminary remained in their respective locations: ABSW in their Julia Morgan designed building at 2606 Dwight Way (1918) and SFTS on their hill top location in San Anselmo (1892).
After considerable discussion, Catholic seminaries joined the GTU. The Franciscan School of Theology relocated to 1712 Euclid. The Dominican School of Philosophy and Theology took over CDSP's Easton Hall (the Priory) for many years before relocating to 2301 Vine in Fall 2006. The Jesuit School of Theology, now part of Santa Clara University, occupies 1735 Leroy.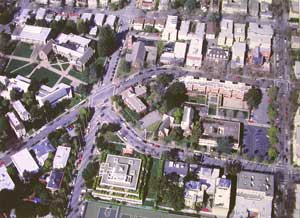 Aerial view of Holy Hill in 1999 showing the library on the Wilson property.
Most of the California seminaries, especially those in the Bay Area, already had a long history of sharing resources prior to the establishment of the GTU.
In 1964, Graduate Theological Union purchased the fraternity house at 2465 Le Conte, which became an administrative building. The GTU slowly succeeded in obtaining the permits and then the funding to construct the current common library (the first common library was located at CDSP).
The library was built in two phases. Construction of the first level and the basement / mechanical area was completed in 1981. The original entrance was located on Scenic. The second and third levels were completed in 1987. The ceremony naming the building the Flora Lamson Hewlett Library took place on May 5.
Events, 1962 - 2012
1962
After extensive discussions, Protestant seminaries in Berkeley and the San Francisco Bay Area form a cooperative degree program. Initial members are Berkeley Baptist Divinity School (now American Baptist Seminary of the West), Church Divinity School of the Pacific, Pacific Lutheran Theological Seminary, and San Francisco Theological Seminary.
Sherman E. Johnson, first Dean, suggests the name Graduate Theological Union (GTU).
1963
John Dillenberger is appointed second Dean (1963-69).
1964
First Catholic seminary joins consortium: St. Albert's College (now Dominican School of Philosophy and Theology).
Pacific School of Religion and Starr King School for the Ministry join GTU.
Library Director N. Stilson Judah forms the Bibliographical Center to consolidate library collections from the different schools and centralize book ordering and cataloging.
1966
Alma College relocates from Los Gatos and is renamed the Jesuit School of Theology at Berkeley.
First graduate: William Rumpf (SFTS), Master of Theology (ThM).
Institute for Thomistic and Ecumenical Studies founded by Dominican Order becomes affiliate with GTU to support advanced studies in Thomistic doctrine.
1967
Second graduate: Austin Ritterspach (SFTS), Doctor of Philosophy (PhD).
John Dillenberger becomes 1st President (1967-1971).
1968
The Franciscan School of Theology moves from Mission Santa Barbara to Berkeley and joins GTU.
Center for Judaic Studies founded (now Richard S. Dinner Center for Jewish Studies).
GTU accredited by Association of Theological Schools (ATS).
School of Applied Theology becomes an affiliate. Its purpose is to provide spiritual renewal and personal enrichment to lay leaders, priests and religious.
1969
Center for Urban Black Studies founded.
Office of Women's Affairs (later Center for Women's Studies) founded.
Merged library created. Library code name for cataloging is CBGTU.
1971
Claude Welch becomes Dean (1971-87) and 2nd President (1971-82).
Common library agreement signed by member schools.
GTU accredited by Western Association of Schools and Colleges (WASC).
1972
Louis I. Kahn selected from 18 architects to design library. Site at Ridge Road and Scenic Avenue purchased from ABSW.
Pacific and Asian American Center for Theology and Strategies founded.
1973
GTU students are allowed to cross-register at UC-Berkeley at no additional charge.
GTU bookstore begins operation.
1974
Jürgen Moltmann, Robert N. Bellah, John C. Bennett, Donald R. Hopkins and Aaron Wildavsky speak at opening of the Center for Ethics and Social Policy, March 4.
1975
Following death of Kahn in 1974, local firms Peters, Clayberg and Caulfield and Esherick, Homsey, Dodge and Davis are selected to finish the design of the library.
1976
GTU Annual Distinguished Faculty Lecture inaugurated. Massey H. Shepherd, CDSP, delivers first lecture: "Dante's Comedy: A Vision of What Is and Was and Is to Come."
1977
Center for the Study of New Religious Movements established (1977-83).
Viktor Frankl Library and Memorabilia established with Robert Leslie as curator.
1979
Trustees decide to split construction of library into two phases. Groundbreaking for the basement and level 1 takes place on June 24.
His Holiness the Dalai Lama Tenzin Gyatso visits GTU during his first US trip.
1981
Phase I of library completed. Building dedicated on February 23.
Patriarch Athenagoras Orthodox Institute becomes affiliate.
1982
Michael Blecker inaugurated as 3rd President (1982-87).
1985
The Institute of Buddhist Studies becomes an affiliate.
Over 700 students, faculty, and staff from GTU join the rally against apartheid on April 24. Gathering at 2465 Le Conte, they then march to Sproul Plaza at UC-Berkeley.
1987
Phase II of library completed. In acknowledgement of a generous gift from William R. Hewlett, the building is named after his wife Flora Lamson (1912-1977) on May 5.
Trustee Jane Newhall endows the Newhall Fellows, an endowment enabling doctoral students either to teach or to conduct research with faculty mentors.
Judith A. Berling becomes Dean (1987-96).
1988
Robert Barr becomes 4th President (1988-92).
One of GTU's most popular art exhibits opens: Christo and Peter Selz: The Running Fence Project Revisited, April–May.
Library building receives 3 awards, including the Award of Excellence from the American Institute of Architects and the American Library Association.
1989
GTU hosts the 11th Annual National Conference of Black Seminarians. The theme is "Redefining Black Power through Church and Society."
GTU Archives established. Lucinda Glenn hired as first archivist.
Chan Prize for the best essay on Religion and Economics inaugurated, funded by the Lionel Chan Family Endowment.
1991
Professor Surjit Singh endows an annual lecture on comparative religious thought . He gives the first lecture on October 6: "The Telos of Religion and Culture: An Interpretation."
1992
Library installs online catalog called GRACE (GTU Reference Access Catalog Experience).
1993
John Pairman Brown delivers the first annual Sacred Text lecture on February 25: "What Makes a Text Sacred?"
Glenn R. Bucher inaugurated as 5th President (1992-99).
Stephen De Staebler's Winged Figure installed in library.
1995
New Perceptions of the Spirit, an exhibit in conjunction with the International Conference on the Visual Arts and Religious Communities, opens on July 5.
GTU alumna Margaret R. Miles becomes Dean (1996-2001).
1999
John Dillenberger returns as 6th President (1999-2000).
2000
James A. Donahue is first alumnus (PhD 1984) to become President (2000-present).
GTU hosts American Theological Library Association Annual Conference, June 21-24.
2001
Arthur G. Holder becomes Dean (2001-present).
2006
Michael Morris' exhibit Moving Pictures: The Bible and Beyond opens in September, the first stop on a national tour.
2007
Center for Islamic Studies established.
2012
At the Commencement on May 10, 21 PhD's and 40 MA's are awarded.
M.A. with a concentration in Interreligious Studies begins.
The GTU Consortium
The Graduate Theological Union (GTU) began as a partnership of four schools in 1962 and evolved into a consortium of six Protestant and three Roman Catholic schools, along with Orthodox, Jewish, Islamic, Buddhist and other centers of learning. Founded to support graduate theological education and promote ecumenical and interreligious dialogue, its location also enabled access to the resources of the University of California, Berkeley.
According to the Articles of Incorporation, the GTU was "formed to conduct an educational institution offering instruction on the graduate theological level; to participate with theological seminaries and other institutions of higher learning in cooperative programs of study; and to grant such academic degrees and honors as are customarily granted in universities and seminaries of learning, either in its own name only, or in conjunction with another such institution."
From 1966 to 2012, GTU has awarded the following: Doctor of Philosophy, 807; Doctor of Theology, 114; and Master of Arts, 1257. The GTU consortium, the first of its kind in the US, increasingly influences theological education in the United States and in many regions of the world.
Schools (year founded)
American Baptist Seminary of the West (1871)
Church Divinity School of the Pacific (1893)
Dominican School of Philosophy & Theology (1851)
Franciscan School of Theology (1786)
Jesuit School of Theology of Santa Clara University (1934)
Pacific Lutheran Theological Seminary (1950)
Pacific School of Religion (1866)
San Francisco Theological Seminary (1871)
Starr King School for the Ministry (1904)
Academic Centers (year founded)
Center for Islamic Studies (2007)
Richard S. Dinner Center for Jewish Studies (1969)
Affiliates (year founded)
Center for the Arts, Religion, and Education (1987)
Center for Theology and the Natural Sciences (1981)
Institute of Buddhist Studies (1949)
New College Berkeley (1977)
Patriarch Athenagoras Orthodox Institute (1981)
School of Applied Theology - SAT Sabbatical (1960)
Programs
Asia Project
Black Church / Africana Religious Studies
Women's Studies in Religion
---
The GTU is at root a venture in faith: faith in one another, faith in the future, and faith in God. The GTU is a unique community, formed from a series of covenants, agreements and contracts. Remarkable things have happened in the GTU, there is much unfinished business underway, and there are possibilities as yet unexplored.
Claude Welch, Annual Report of the Dean and President to the Board of Trustees, September 15, 1973
A Baptist, a Jew, a Buddhist, a Franciscan Friar, and a Muslim walk into the Flora Lamson Hewlett Library… This is not the beginning of a joke but an occurrence that happens daily at the Graduate Theological Union, a place committed to outstanding interfaith education.
James A. Donahue, Annual Report 2010