Doug Adams: His Life and Work
Film and Faith
A number of churches are dying, and they don't have members under 50. If you look in the churches you know why: There's nothing to see. The fastest growing churches in this country are those that offer something for the eyes...To have an exclusively verbal sermon, it may as well be in Latin.
Doug Adams quoted in William Friar, "Rebirth of spiritual art: A conference at Berkeley's Graduate Theological Union reveals renewed interest in religious art," The Oakland Tribune, August 3, 1995, page CUE 5.
Doug Adams was a promoter of the use of videos and movies, as well as performance and visual arts, both to convey a Christian message and to keep worship in the present. He was featured on a number of panel discussions on Mel Gibson's The Passion of Christ and Dan Brown's "The Da Vinci Code."
The following article appeared in Visual Parables Spring 2004,
"The Passion of the Christ" and Emotional Spiritual Life
As Arthur Miller's play The Crucible" may more accurately probe motivations in Joseph McCarthy's witch hunts than in Puritan witch trials, and as Nathaniel Hawthorne's novel The Scarlet Letter critically revealed Victorian values more than Puritan ones, so Me1 Gibson's film The Passion of the Christ targets Vatican 11 cardinals in his portrayals of Jewish high priest Caiaphas and the Sanhedrin. The movie is even more anti-modem Catholic than anti-Semitic.
Gibson favors pre-Vatican 11 Roman Catholicism. One may see the emotionally charged film among populist American traditions expressing anti-religious establishment and anti-intellectual sentiments uniting many evangelical Protestants and pre-Vatican 11 Catholics. The caricature of Caiaphas could be of an unempathetic modem college president or professor or Catholic cardinal. Emotionally challenged or morally challenged leaders of colleges or churches have left their students or parishioners with a hunger for passion which the movie fills or exploits depending on your point of view. The intense suffering is a part of that pre-Vatican 11 tradition.
This is not the first time that large numbers of persons have hungered for affective life in our country where many churches and schools have provided intellectual but little emotional or spiritual stimulation. During the eighteenth century enlightenment when reason dominated church and school, there was a reaction through many spiritual revivals with strong emotional affect evident in Europe and in the First Awakening in the American colonies. The Moravians (who influenced John Wesley's spiritual life) are an example of one such eighteenth century group who came from Europe to America and whose art we will examine later in this article.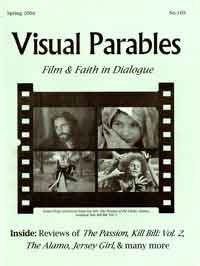 During the first half of the nineteenth century, the Second Awakening included strong emotional expressions through camp meetings in the country and in protracted meetings in the cities and towns. Such expressions subsided in the post-Civil War period but were expressed again in the early twentieth century. By the mid-twentieth century, the dominance of reason and doubt was evident among many church leaders who had grown suspicious of the powerful emotionalism which Hitler and other demagogues used so effectively in their rise to power; but by the 1960s' the quest for greater emotional life was reasserting itself in the significant growth of interest in the arts and spiritualities which continue to thrive.
In his painting Thomas Doubting (c. 1758-1759), Moravian artist John Valentine Haidt shows the post-resurrection scene where Christ appears when Thomas is present. In the biblical account (John 20: 26-29), Christ invites the unbelieving Thomas to place his hand in Christ's wounds; but the Bible does not say whether Thomas does so. In Haidt's painting, Christ takes Thomas' hand and places it in his wounded side as Thomas seems to be in a state of shock. Haidt satirizes Thomas as a rationalist similar to the eighteenth century rationalists who tried to minimize the hymns and preaching about Christ's wounds and b1ood. Haidt places Thomas on the lower left side of Christ where in last judgment art one finds those who are going to hell whereas Mary Magdalene is to Jesus right side where one finds those who are going to heaven. (In the Church Educator February 2003 article "To Touch or Not To Touch," I have detailed how in art Mary Magdalene's faith and not touching is contrasted to Thomas's doubting and touching.)
Haidt did many other art works showing the suffering and wounds of Christ. His Christ Scourged (c.1758-1759) shows the back of Christ so bloodied that some Moravian scholars have said that Me1 Gibson's The Passion of the Christ is a two hour cinematic version of Haidt's Christ Scourged. Haidt's works created the environment for worship in the mid- eighteenth century Nazareth, Pennsylvania Moravian worship place; but by the mid-nineteenth century, the more modem Moravian worship places no longer had paintings as reason ruled the faith.
Twenty-five years ago, some feminist theologians wanted to get rid of crucifixion imagery as they then felt that showing Christ's suffering justified abuse and led to women accepting their suffering rather than fighting it. Womanist theologians (from third world backgrounds) have since affirmed the suffering crucifixion as affirming an affinity with the suffering of the poor. That womanist response is in line with the 13th century Franciscans' renderings of the suffering Christ on the cross and their concerns for the poor who suffered.
Why do we resist seeing the suffering of Christ? Could it be that our resistance to seeing the suffering of Christ corresponds to our resistance to seeing the suffering of the poor here and around the world? Could it be that our resistance to seeing suffering is a denial of our own mortality? In closing our eyes to seeing the suffering of Christ and others, do we deny depths of emotional and spiritual life? While we may reject the sacrifice of the mass and the idea of a God who demands Christ's suffering in order to be placated, we may see the bloody suffering of Christ on the cross as a way which opens us to empathize with the suffering of others for whom Christ would have us care.
Permission to reprint this essay courtesy of The Center for Religion, Arts and Education.