Doug Adams: His Life and Work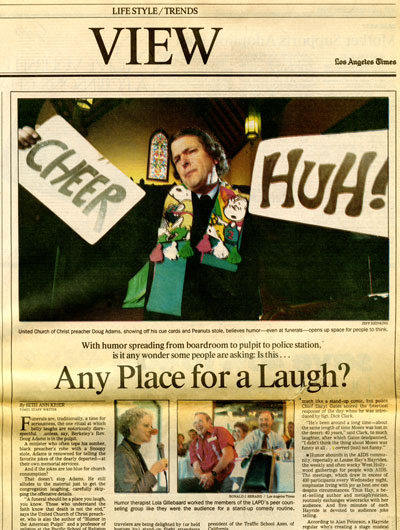 Through browsing, we are surprised.
Doug Adams, Pacific School of Religion Bulletin 1983-85.
Resources
Additional Sources
Many of Adam's articles can be found online through the ATLAS database. Some of his best articles are reprinted in edited works. Other articles require a visit to a library or his archives. He regularly wrote for Modern Liturgy, Church Teacher and Church Educator. These, along with his syllabi, provide a continuing resource for his ongoing interests and observations.
Adams was an avid proponent of scientist and philosopher Michael Polanyi. See Meaning With the Arts, an abbreviated version of a much longer article, and visit The Polanyi Society website for additional articles and mentions.
As with our archival online collection on Robert McAfee Brown, additional articles, images, and media files will be placed on our Digital Content site.
Related Finding Aids
Adams donated several collections to the GTU Archives.
Margaret Palmer Taylor Collection of Sacred Dance. Margaret Palmer (1908-2004) was a pioneer in the field of sacred dance in America. Born in Oakland, California, she was a daughter of a Congregational minister. The family moved to Honolulu in 1917, where she learned creative dance in school. Margaret began to incorporate sacred dance in the church worship services of her husband, Rev. Chester B. Fisk. She continued to expand her dancing, organizing rhythmic choirs and teaching workshops in many denominational and college settings. Margaret was one of the founders of the Sacred Dance Guild.
Harland E. Hogue oral history collection . Harland E. Hogue, 1908-1999, was professor emeritus in homiletics and church history at the Pacific School of Religion, Berkeley, CA. His oral history interviews with Doug Adams discuss his life, career, experiences, people, and general observations there. The interviews also include his experiences at the San Francisco Theological Seminary where he had earlier been a student, and the Graduate Theological Union, Berkeley, CA after its incorporation in 1962.
Future collections and online exhibits planned for this year include additional sacred dance materials by Margaret Taylor and Carla DeSola and art exhibits displayed in the library.
Newspaper article above is Beth Ann Krier, "Any Place for a Laugh?" Los Angeles Times, December 10, 1989, p E-1.
Acknowledgements
Thanks to the following for providing permissions to post materials: Carin Jacobs, Director of Center for Art, Religion and Education; Kaye Schellhase, for Pacific School of Religion materials; Bill Burns, Publisher of Resource Publications, for editorial and table of contents from the first dance issue of Modern Liturgy; Phil Mullins for the abbreviated version of "Meaning With the Arts: Implications of Polanyi's Epistemology for the Arts"; and Al Kresta and Ave Maria Radio for the radio show segment.