Doug Adams: His Life and Work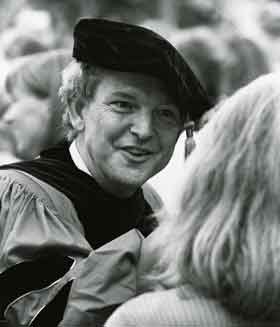 Introduction
Douglas G. Adams (1945 April 12 - 2007 July 24) was professor of Christianity and the Arts at Pacific School of Religion for 31 years and member of the core Graduate Theological Union faculty.
Painting, music, drama, dance, humor help us to express more fully the Word of judgment and of grace. They lead us to hope in hopeless situations.
Doug Adams, Pacific School of Religion Bulletin, 1982-83
Adams was an international scholar in religion and the arts, worship, dance and humor. He authored hundreds of articles and a dozen books, inspired and mentored thousands of students, and lectured and conducted workshops throughout the US.
In 1987 he founded the Center for Arts, Religion and Education (CARE), an affiliate of Graduate Theological Union. Today, CARE continues his goal to support arts in every aspect of religious life.
The Adams collection is open for research. For a list of contents see the Finding Aid. This online archival exhibit provides access to a selection of documents and audio and visual materials from the archives.